The Millennia-Long History of German Sister Cities
The earliest known city partnership in Europe was established in 836 between Paderborn, Germany and Le Mans, France. This partnership initially took the form of an "eternal brotherhood" between the dioceses of the two Catholic bishops. An official city partnership agreement was finally signed in 1967. Other pioneering German partnerships included Kiel, Germany and Sonderburg, Denmark in 1925 and Wiesbaden, Germany and Klagenfurt, Austria in 1930.
However, the modern concept of "sister cities" as we know them was not launched until after WWII. To foster citizen diplomacy and sow the seeds of peaceful post-war coexistence, formal sister city partnerships became increasingly widespread. Some German partnerships, such as the agreement between Coventry in the UK and Kiel, were created to foster healing and coexistence following prior destruction at the hands of the other. There was also a surge in French-German partnerships. In 1951, 50 French and German mayors created the Council of European Municipalities and Regions to foster city collaboration, and now over 2,200 French-German partnerships and 20,000 city partnerships overall exist in Europe today. On July 21, 1947, the first German-American sister city partnership was established between Crailsheim, Germany and Worthington, MN, having originated in a pen pal friendship between two young girls.
In 1956, the scope and impact of this pioneering citizen diplomacy was amplified when US President Dwight D. Eisenhower established the People-to-People Program, which later evolved into Sister Cities International. An expandable timeline of Sister Cities' history can be found here. Through Sister Cities' membership resources and guidance, scores of new US-German partnerships were established; some on the initial basis of shared heritage, culture, industry, or size; to foster city collaboration in culture, business, technology, education, the environment, and more.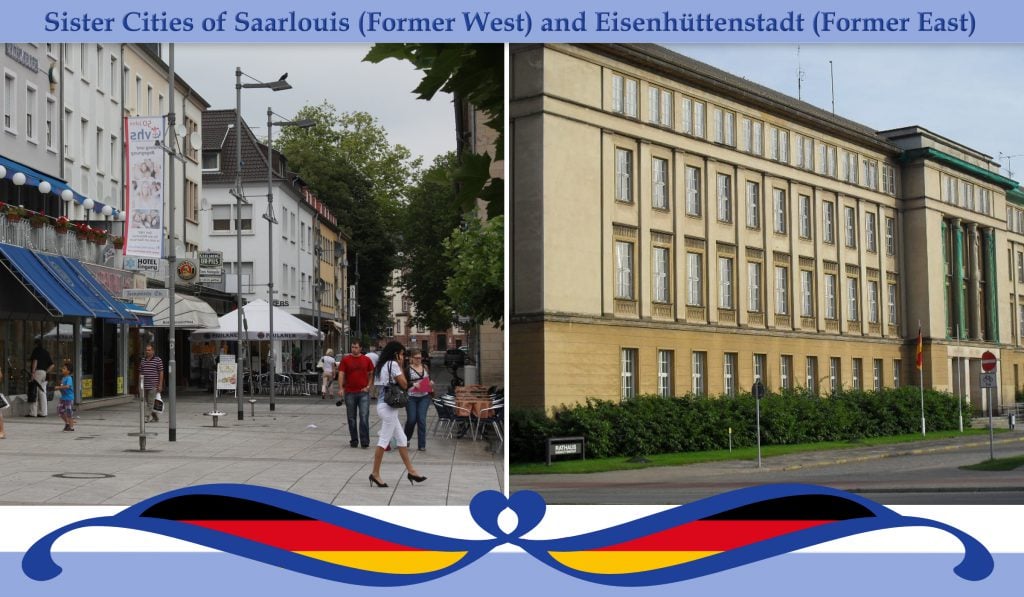 With the easing of the iron curtain in the 1980's, a new form of city kinship also emerged: German-German sister cities from the East and West. The first East-West sister cities, Saarlouis (BRD) and Eisenhüttenstadt (DDR), were established in 1986. Additional pairings included Aachen (BRD) and Naumburg (DDR) in 1988. These partnerships included high-level negotiations between DDR General Secretary Erich Honecker and West German Bundesland and city officials. Before the fall of the wall in 1989, these partnerships remained mostly between city officials with little of the community involvement customary of today's sister city partnerships. However, after the fall of the wall, these partnerships blossomed into lasting people-to-people and community-to-community exchanges, facilitating the processes of rebuilding and reunification.
Today, Germany is a participant in over 5,000 city partnerships, including 100 partnerships with the United States (click here for an interactive map of US-German partnerships). From its early historic partnerships to rebuilding international relationships on the local level to its pioneering collaborations today, Germany has helped to realize Eisenhower's vision of fostering understanding, appreciation, and cooperation through sister city partnerships. To learn more about US-German sister city partnerships and how to get involved, please visit our Sister Cities Wunderbar Together page.
This blog post forms part of Sister Cities' "Wunderbar Together" series, part of our ongoing involvement in "Wunderbar Together," funded by the German Federal Foreign Office, implemented by the Goethe-Institut, and supported by the Federation of German Industries (BDI). This year, we are showcasing stories that highlight the impact of German-American exchange on the local level, as well as the heritage, interests, and common values shared by the United States and Germany. To submit your own experience with German-American exchange or involvement in a German-American sister city partnership, please fill out our form here.
---