Baltimore, Maryland – Xiamen, China Sister City Partnership
Sister Cities Baltimore, Maryland and Xiamen, China have been working together to fight COVID-19 in their communities. See their press release here to learn about how they've tackled this issue!
Sister Cities Baltimore and Xiamen, China, Coordinate PPE Mask Donation
Baltimore Mayor Bernard C. "Jack" Young welcomed a shipment of 50,000 surgical masks donated by Baltimore's Sister City Xiamen, China.
"I'm immensely grateful to the municipal government of Xiamen and for the hard work of the Baltimore-Xiamen Sister City Committee who made this gift happen," Mayor Young said. "This shipment will help ensure that Baltimore has adequate supplies of essential PPE for our medical partners and first responders, who continue to be on the front lines of the pandemic."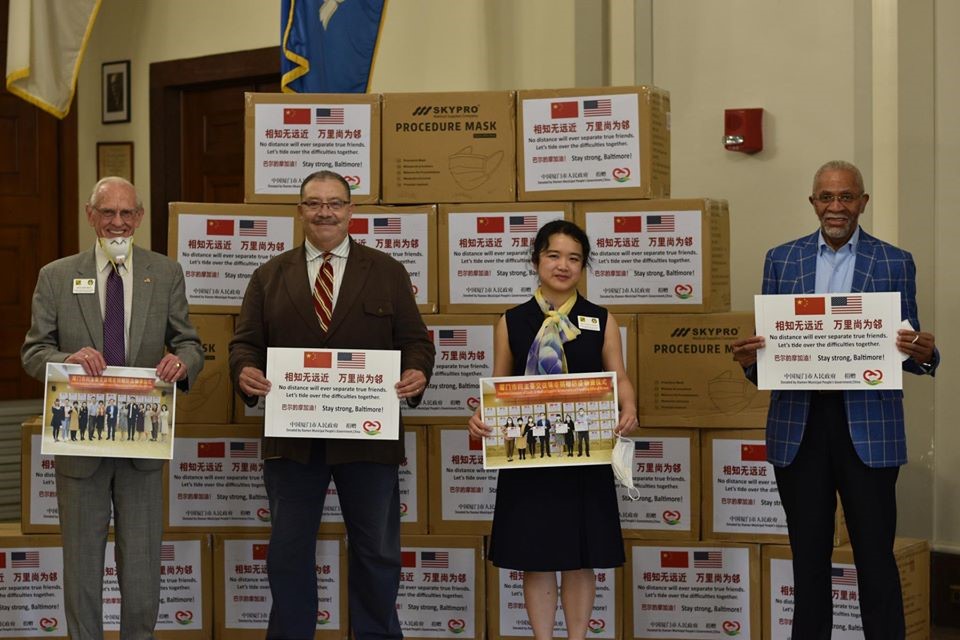 The shipment of masks was organized by the Baltimore-Xiamen Sister City Committee (BXSCC), an all-volunteer group overseeing international cooperation and exchange programs under the umbrella of Baltimore Sister Cities, Inc. (BSC). Xiamen's municipal government purchased the masks from local suppliers to ship to Baltimore.
Committee Chair Xin (Cindy) Wang said, "Xiamen reached out at the start of the pandemic to offer its support to the Mayor and people of Baltimore. When we realized that they had access to producers of PPE, we determined this was something that was both achievable and could have real benefit to our efforts here at home."
Twenty-five cases of surgical masks, weighing 551 pounds, arrived in the US on May 24 before clearing customs and being shipped to Baltimore.
---