NHAEON Haiti Earthquake Relief Campaign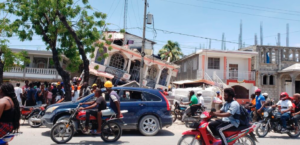 Haiti has recently been struck with a tragedy that has already affected thousands of people in their country. In addition to the earthquake they experienced, Tropical Storm Grace has inflicted widespread damage to the country. We reached out to Dr. Alix Desulme, past member of the SCI Board and currently SCI's Country Representative for Haiti for information on how our sister cities network can support relief efforts.
Dr. Desulme has been working with the Biden Administration and the Haitian Government to help the people of Haiti. For those SCI members and communities that wish to support relief efforts, Dr. Desulme has recommended contacting the National Haitian American Elected Officials Network (NHAEON), a National Organization that Dr. Desulme Chairs.
The National Haitian American Elected Officials Network (NHAEON) is collecting monetary donations for the Earthquake victims in Haiti.
NHAEON will be vetting organizations prior to distributing any funds. NHAEON will be responsible for monitoring all relief efforts and deliverables to ensure that accountability is held at the highest standard.
Your contribution to the NHAEON Haiti Relief Efforts Fund will rapidly provide much-needed resources to Haitian families who have been directly impacted by the earthquake. By donating today, 100% of your donation will go towards supporting the efforts of trusted organizations on the ground in Haiti.
These organizations need your financial support to accomplish their mission, and they rely on your support to quickly deliver relief to the Haitian people.
Please help NHAEON provide immediate help to the earthquake victims and their families.
For more information, visit the NHAEON Facebook and Instagram pages.
https://donorbox.org/nhaeon-haiti-2021-earthquake-relief
---